Masterpiece series
The best manufacturing, both for grand pianos and upright pianos.
All components of primary importance, such as the woods of the strung-back, the action, the hammers and the strings' steel, are guaranteed by prestigious brands such as Ciresa, Delignit, Renner, Abel, Röslau.
The strings of the bass section are made with an automated process that controls and customizes their features, so they can exploit the maximum of their acoustic potential. The keyboard (88 notes - 7 1/4 octaves), which grants a natural and sensitive touch, is produced with selected woods and covered with special warp-free material.
The pianos of the Masterpiece Series are an excellent technical and quality value, allowing the highest grade of expression in any musical field. Thanks to the top-quality cabinets, that are the result of Schulze Pollmann's traditional handcraft knowledge, they are able to complement any décor or environment.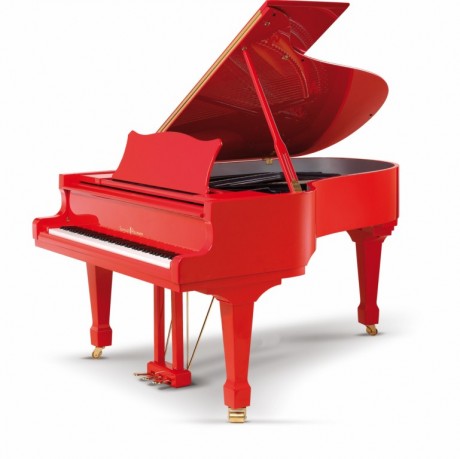 M 197 Rosso Formula
Ferrari has contacted Schulze Pollmann to obtain a red piano matching the colour of their racing cars; this piano was meant to be used as a testimonial of Italian craftsmanship for the presentation of Ferrari Scaglietti 612 at their most prestigious worldwide dealerships.
Schulze Pollmann's technical experts in painting and master carpenters have done their utmost to replicate on wooden surface the same visual result requested by Ferrari, which, until then, had been obtained only on metal surfaces. The results were excellent and Ferrari decided to use this prestigious instrument also for the events in the farthest places, including California.
The 197 "Rosso Formula" comes from this experience; it is now produced upon request, in limited quantities. In addition to the exclusive red colour, which is warm and shining, this piano offers other unique features: a matching bench with velvety-leather red top, iron cast in carbon-gray colour (like the racing cars' engine), the inner side of the rim in metal grey colour (like the rims of these extraordinary cars).